News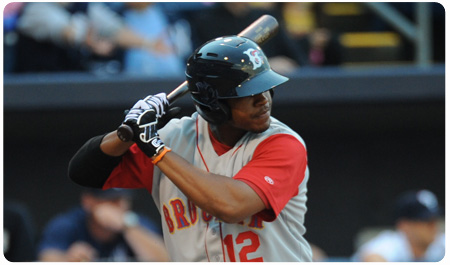 July 30th -- Burlington, VT -- The Brooklyn Cyclones (23-18) dropped the first of a four-game road series against the Vermont Lake Monsters (21-19) by a score of 12-1 on Saturday night. The Lake Monsters came into the game with just a .247 team batting average (10th out of 14 NYPL teams), but they swatted 15 hits on the night. The Cyclones, on the other hand, came into tonight with a .267 team average (4th in the NYPL), but they strung together just six hits. However, they had their chances to score as they left 11 men on base and went 1-for-7 with runners in scoring position.
Eduardo Aldama (2-2) moved into first-place in the NYPL for strikeouts by fanning five tonight, but he yielded five runs in just 3.0 innings of work and took the loss. Tyler Vail (1-2), Oakland's fifth round pick in last year's draft, picked up the win after tossing 5.1 innings of one-run ball.
Vermont jumped out to an early 3-0 lead in the bottom of the first on Dusty Robinson's two-out, three-run home run. The homer was Robinson's first at the Class A level.
Robinson was back at it again in the fourth with a one-out double to start a two-run rally. The two runs were scored in a blink of an eye with two consecutive base hits – a RBI-triple and a RBI-single.
Already leading by five runs, the Lake Monsters used a two-RBI single by Nick Rickles to extend their lead to 7-0 in the bottom of the fifth. Rickles, who doubled back in the first and tripled in the previous inning to plate Robinson, became a threat for the cycle with the single, needing just a home run.
The Cyclones got on the board in the top of the sixth on a solo home run by Richard Lucas. The homer, which was his fifth on the season, marked the 35th time Lucas has reached base safely in his 37 games as a Cyclone.
Vermont, however, strung together four hits and took advantage of a Brooklyn fielding error en route to posting a four-run seventh inning, taking a 11-1 lead.
Nick Rickles fell short of hitting for the cycle by singling to lead off the bottom of the eighth, but he came around to score later in the inning.
The Cyclones went down 1-2-3 in the top of the ninth to give the Lake Monsters a 12-1 victory.
Brooklyn looks to bounce back tomorrow, Sunday July 31, at 1:05 p.m. for the first game of a doubleheader. Both games will be 7 innings. After the series finale on Monday, The Cyclones return home to MCU Park on Tuesday, August 2 for a three-game series against the Williamsport Crosscutters. The Inflatamaniacs will make their MCU Park debut and following the game, everyone gets to run the bases. Tickets are still available and can be purchased by calling 718-507-TIXX, visiting the MCU Park box office, or logging on to BrooklynCyclones.com.

-- Ryan Gilbert
BrooklynCyclones.com