News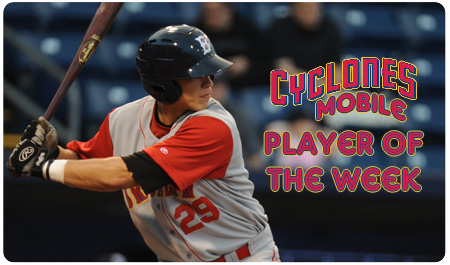 Every Friday we will announce the finalists for the Cyclones Mobile Player of the Week. After fan voting, the player with the highest total will be announced on Monday morning. Then, one lucky fan who voted for the winning entry will receive a special prize courtesy of the Brooklyn Cyclones. This week's winner will receive a signed photo of former Cyclone and current Mets outfielder Angel Pagan.
The winner for this week was Travis Taijeron. Here's a look at the finalists for the first week of the season:
For TRAVIS TAIJERON - Text A to 51684 -
The recent 18th round pick in the recent MLB Draft is off to a hot start for Brooklyn. The outfielder from San Diego, CA is hitting .333 (7-21) with three runs scored and three RBI through the first seven games. He also has seven walks to give him him a .500 on-base percentage through the first week.
For DANNY MUNO - Text B to 51684 -
The eighth round pick in the 2011 draft from Fresno State leads the Cyclones in batting average, hitting at a .381 (8-21) clip. The shortstop and lead off hitter has also scored a team leading seven runs with three doubles and one triple.
For CHRIS HILLIARD - Text C to 51684 -
The southpaw became the winningest pitcher in Cyclones franchise history when he collected his 11th career win in a Brooklyn uniform on Monday vs. Aberdeen. Hilliard tossed 5.0 shut out innings, allowing only three hits en route to the victory.
For EDUARDO ALDAMA
- Text D to 51684 -
The Opening Day starter for the Cyclones is 1-0 with a 1.86 ERA (two ER / 9.2 innings) through his first two starts of the season, including a one-hit outing over 5.2 innings against Aberdeen on Wednesday.