News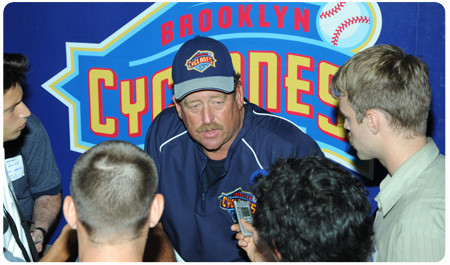 by Ryan Gilbert
BrooklynCyclones.com


As the Cyclones geared up for their home opener, pitching coach Frank Viola took the time to discuss his feelings and expectations for the 2011 season.
The 1987 World Series MVP and 1988 Cy Young award winner, knows that his pitching staff is aware of his success as a major leaguer. While Viola doesn't doubt that his 15-year playing career makes it "easier" for his young pitchers to approach him for advice, he does believe that he can only do so much to ensure their success. "This is school right now," Frank said, "You can get your [pitcher] to school, but once they get there, once they cross that white line, they're on their own."
Preparation, however, is where Coach Viola is the biggest asset to his pitchers. With an average age of 22.0, a majority of the Cyclones staff has not pitched in front of a large crowd before. "This is when you really have to learn the words 'focus' and 'tunnel-vision," Frank stated, "When I was into the moment, I didn't know that there were 50,000 people around me." In addition to fine-tuning mechanics and game plans, Viola must also mentally prepare his pitching staff for the pro level.
"These kids all got here on their own merit," Viola said, "Now it's just a question of taking that, working with their catcher, and throwing it all out at the plate. If they're able to do that, they'll be the ones continuing on up to the big leagues."
Viola has also quickly developed chemistry with manager Rich Donnelly and hitting coach Bobby Malek. Donnelly, who has been coaching at the professional level since 1972, is "Fun to hang out with and has stories from all over the place," according to Frank. Malek, who had 111 at bats for the Cyclones in 2002, as well as a brief stint in 2006, is a "good storyline to follow" according to Viola.
After being away from professional baseball from 1996 to 2009 when he worked with the Cleveland Indians coaching staff during Spring Training, Coach Viola said it is a "wonderful feeling" to be able to help out the Mets organization again. A native of East Meadow, New York, Frank pitched for the Mets from 1989-1991, winning 20 games in 1990 – no Met has won 20 games in a season since Viola's feat. "Having grown up in Long Island and being a Met fan from a kid on, it's great to put a Met uniform on again. No question," Frank added.
When Viola was approached during the Winter Meetings to re-join the Mets organization, he was eager to seize the opportunity. "It's a different front office, it's a group of different people, they all have a game plan, I'm part of that new game plan and I like that."

Coach Viola quickly became aware of the Cyclones' rich history upon his hiring as pitching coach. "To be a Cyclone is an honor," Frank said, "You're talking about the greatest half-season team in professional baseball. Not just in attendance, but in win-loss record too. I'm having the time of my life."