News
The Brooklyn Cyclones, in conjunction with Daktronics, Inc. of Brookings, SD, have begun construction and installation of a new state-of-the-art video and scoreboard at MCU Park, which will be unveiled during the Cyclones home opener on June 18th against the Staten Island Yankees.

The new integrated display system measures 16 feet high and 66 feet wide with two digital displays and a fixed digital scoreboard. The main video display is roughly twice the size of its predecessor at MCU Park and measures 16 feet high by 30 feet wide. It will feature the latest Daktronics 20 mm LED video technology with the capabilities to present live and recorded video images, colorful animation and vivid graphics.

"This season we will be welcoming our three millionth fan to MCU Park," said Cyclones General Manager Steve Cohen. "And the fans who have helped us reach this amazing milestone deserve the best possible experience and by adding this new top-of-the-line video board, we think it will make your trip the ballpark even better!"

The LED baseball scoreboard provides fans with scoring information throughout the game including at-bat, ball, strike, out, hit/error, team names, inning scores, runs, hits and errors. Below the scoreboard is another LED display, measuring seven feet high by 36 feet wide. This display can showcase season statistics, advertisements, cheer graphics and other messages.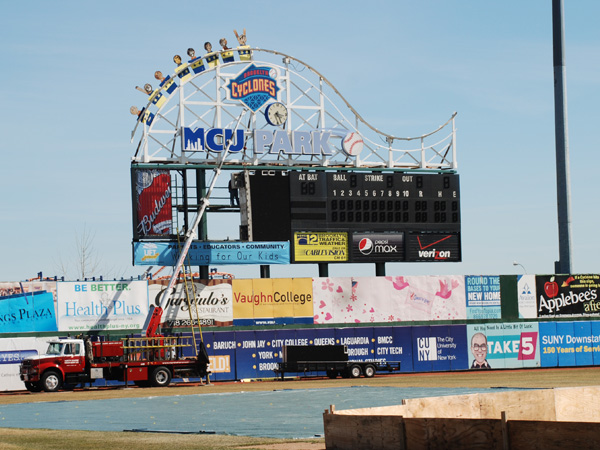 The old scoreboard starts to come down piece by piece.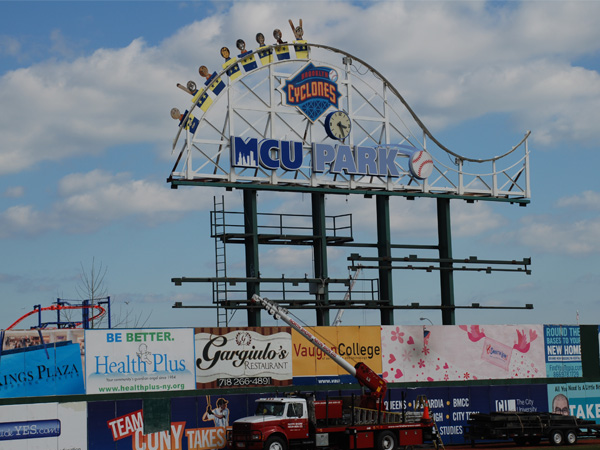 Now there is nothing left but the frame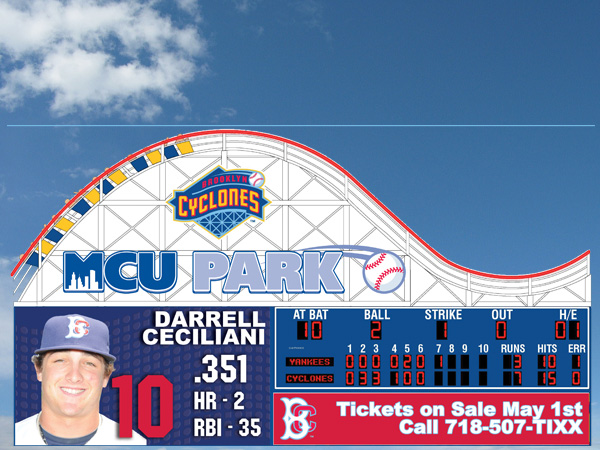 Mock up of what the new video and scoreboard will look like.