News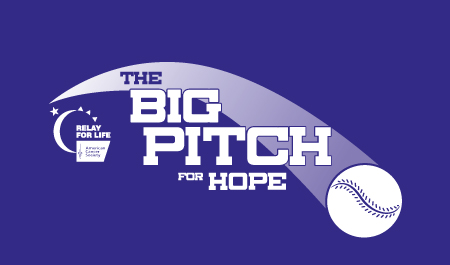 This year in the borough of Brooklyn, more than 10,000 people will be diagnosed with cancer. With that in mind, the Brooklyn Cyclones, American Cancer Society and Toyota have joined forces to create the "Big Pitch for Hope" program. Beginning this month and running through Opening Day at MCU Park on June 18th, fans all over the city will have the opportunity to test their pitching arm with a Brooklyn-wide fastest pitch competition while raising money for the American Cancer Society's Relay For Life of Brooklyn.

The "Big Pitch for Hope" will be hosted at various events throughout the city starting April 30th at ESPN Sports Day at the Tribeca Film Festival. At each event, prospective pitchers will have the chance to purchase a throw for a $2 donation or three tosses for a $5 donation with each pitch tracked by a radar gun. On June 18th, the person who has thrown Brooklyn's fastest pitch will have the chance to throw out the ceremonial first pitch prior to the Cyclones Home Opener against the Staten Island Yankees at MCU Park.

"We are proud to be working with such worthy causes like the American Cancer Society and Relay For Life," said Cyclones General Manager Steve Cohen. "We are also grateful for the generosity shown by Toyota and are ecstatic that together we will be able to make a difference in the lives of those affected by this terrible disease throughout Brooklyn and beyond."

To kick off the borough-wide search for Brooklyn's best arm, while also bringing attention to the 10,000 people diagnosed with cancer in Kings County this year, Toyota has pledged $10,000 to "The Society" and the "Big Pitch For Hope."

Those looking to donate to the cause will also have the opportunity to purchase baseballs featuring the "Big Pitch for Hope" presented by Toyota logo for a five dollar donation, with all of the proceeds benefiting the American Cancer Society's Relay For Life. The baseballs will be available for purchase at Relay for Life in Red Hook on June 11th and the Relay for Life in Bay Ridge on June 18th, as well as at MCU Park, and other events throughout the spring.

For more information on the "Big Pitch for Hope" or to learn where to make your pitch to become Brooklyn's Fastest Thrower, visit brooklyncyclones.com or call 718-37-BKLYN.

EVENTS WHERE YOU CAN BE A PART OF THE BIG PITCH FOR HOPE

April 30th - ESPN Sports Day at Tribeca Film Festival - 10:00 AM - 6:00 PM on North Moore Street between Greenwich and West Streets in Manhattan
May 1st - Court Street Festival - 12:00 PM - 6:00 PM on Court Street between Union and West 9th Street
May 8th - Broadway Festival - 11:00 AM - 6:00 PM on Broadway between 14th and 8th Street
May 15th - 5th Avenue Festival - 11:00 AM - 6:00 PM on Fifth Avenue between St. John and 12th Street
May 16th - Citi Field - 6:00 PM - End of the Game
June 11th - Relay for Life of IKEA, Brooklyn
June 18th - Relay for Like of Bay Ridge - Fort Hamilton High School Athletic Field
We will be adding more events in the near future. Please check back frequently so you can be a part of the "Big Pitch for Hope."