News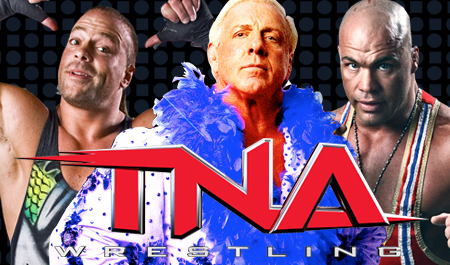 *** To buy your tickets NOW -- CLICK HERE

The Superstars of Total Nonstop Action (TNA) Wrestling's "TNA iMPACT!" on Spike (Thursday 9 p.m. ET) are returning to Brooklyn! "TNA Wrestling's BaseBrawl" will hit the MCU Park Friday, July 1st starting at 7 p.m. for an unforgettable night of action. Fans of all ages are sure to hit a Grand Slam this summer with "TNA Wrestling's BaseBrawl."

This event will feature a rare appearance from TNA Superstar, "The Nature Boy" Ric Flair. Flair will be coming to Brooklyn for this once in a lifetime event.
"TNA Wrestling's BaseBrawl" is a family oriented wrestling event complete with your favorite TNA superstars, fireworks and all the hot summer action you can handle! After the show, stick around for a special fireworks display brought to you by TNA Wrestling and the Cyclones!
Bring your smart phones as ring announcer Jeremy Borash will hide a backstage pass at MCU Park and announce its location on Twitter before the show!
At "TNA Wrestling's BaseBrawl" in Brooklyn fans can GET EVEN CLOSER to their favorite Superstars as the LOUDEST FANS will be invited backstage for a special TNA experience!
Fans that purchase a $90 ticket will receive a special meet and greet with TNA Superstars at 5:30 pm! (Redeemable with ticket the night of the show; ticket price also includes all-you-can eat BBQ buffet.)

Appearing live in person at MCU Park will be:
* "The Nature Boy" - RIC FLAIR
* "TNA Founder" - JEFF JARRETT
* Olympic Gold Medalist - KURT ANGLE
* "The Whole Show" - ROB VAN DAM
* "TNA Knockout Champion" - MICKIE JAMES
* TNA Superstar - MATT HARDY

TICKETS: On sale Saturday, May 7 at
www.brooklyncyclones.com
or charge by phone 718-507-TIXX beginning at 10:00 AM. Tickets will also be available for purchase at the MCU Park box office and Citi Field box office. (For more information:
www.tnawrestling.com
) With each TNA ticket purchased, fans receive a free ticket to a select upcoming Cyclones game. ($8 value; details at
www.brooklyncyclones.com
)