News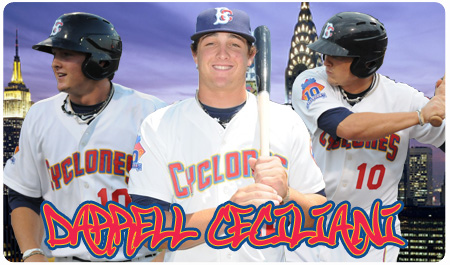 In 2010, Darrell Ceciliani put together what was probably the best offensive season in the history of the Brooklyn Cyclones. The 21-year-old outfielder led the league in hitting with a .351 average, a franchise record, and also led the league in hits and triples, and ranked third in on-base percentage, doubles and extra-base hits. The native of Madres, Oregon did all of this while playing some of the best defense of any outfielder in the Mets organization. Recently Ceciliani was at the Mets Top Prospect camp in Florida and took some time to check-in with BrooklynCyclones.com.
BrooklynCyclones.com: You improved your batting average by more than 100 points between your first and second seasons. What do you think accounted for your success in Brooklyn last season?
Darrell Ceciliani: For me the biggest thing was just staying healthy. My first season after I got drafted I was also battling something. It was either I was sick, or something was banged up and I never really got going and got in a good rhythm. In Brooklyn last year, I was playing everyday and that helped me get on a roll, and once I got going I never really looked back. I also think that I was just more comfortable in my approach and a lot of that had to do with working with the coaches in spring training and knowing exactly what I wanted to do at the plate in every situation.
BC.com: When you first found out that you were assigned to Brooklyn what was your reaction?
DC: Well to be honest, I was hoping I would get to come play for the Cyclones. I had never been to New York before, so that was something I looked forward to, but the other thing was that everyone – the coaches, the staff, the players – everyone talks about how great playing in Brooklyn is. So I wanted to see it for myself, and I can now agree that everything that people say about the atmosphere and the crowds and the experience is true. It was one of the best summers of my life and what I hope is going to be a spring board towards coming back to New York soon but in the orange and blue.
BC.com: Is there a game, or a single moment, that sticks out in your head from your season with the Cyclones?
DC: I guess the thing that sticks out the most is the playoff series against Jamestown. They were a hot team, we were a hot team. It was like a heavyweight fight. They'd hit us with a big punch, then we'd fight back. That whole series was great because it seemed like every at-bat, and every pitch of that at-bat could be the difference between a win and a loss. When we won that series and headed onto the championship, I was very proud of the way we played and the toughness we showed as a club.
BC.com: When you received the Sterling Award at Citi Field last season, you were able to take batting practice on the field, you even hit one out. What was that whole experience like for you?
DC: That was crazy. It was an honor to receive the award, and be singled out after being part of such a great team with so many great individual performances during the year. But that whole day was such a great experience. I got to meet guys like David Wright and Jose Reyes. I got to take BP on the field, and when I hit one out – I'm not going to lie – I was pretty pumped. That's the dream. That's where you want to be. So to get a little taste of that made me want to be there everyday in a big league uniform.
BC.com: What have you been up to during the off-season?
DC: I've been working on my dad's ranch. That's what I do every year. It's good to be outside and that kind of helps me recharge my battery. I love the outdoors, I love working on the ranch. That's who I am, and that's what I love. But it's also a ton of hard work, which kind of pushes me to get ready for baseball season and realize how lucky I am to be able to play the game I love for a living.