News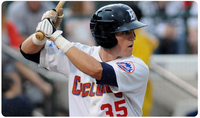 Box Score

The Cyclones beat the Mahoning Valley Scrappers on Thursday night by a score of 7-4 for the second straight night, thanks in part to a four-run sixth inning. The win puts Brooklyn two games above Staten Island for first place in the McNamara Division.

The Cyclones offense was led by 3B Brian Harrison (pictured, by George Napolitano), who went 3-for-4 with his second home run of the season and an impressive six RBI in the game. Three of Harrison's RBI came in the sixth inning when he came up with bases loaded and two out to lace a double down the left field line, clearing the bases. 1B Jeff Flagg registered the Cyclones only other RBI in a 1-for-2 effort, bringing his average to .311 for the year. 2B J.B. Brown was also 2-for-3, crossing the plate twice and walking once. SS Rylan Sandoval, CF Darrell Ceciliani, RF Cory Vaughn, and DH Joe Bonfe each checked in with one hit apiece while Ceciliani swiped his team-leading 10th stolen base of the season.

LHP Chris Hilliard tossed 4.1 innings, allowing a total of four earned runs on seven hits with one strikeout in the game. RHP Samuel Tavares came on in the fifth inning going 1.2 scoreless innings while striking out one without allowing a hit to earn his first win of the season. LHP Adam Kolarek was given the ball for the seventh inning, and pitched 1.2 innings of hitless baseball with two strikeouts. RHP Johan Figuereo relieved Kolarek in the eighth inning and went 1.1 innings to earn his sixth save of the season, allowing one hit while striking out two.

The Cyclones will face the Scrappers again on Friday at 7pm for the third game of the series at MCU Park. That night the first 2,500 fans in attendance will receive a Performance Fit T-Shirt, presented by Midwood Ambulance, as part of EMS and Civil Servant Night at MCU Park. There will also be a spectacular fireworks show after the game!

There's something for everyone at every Cyclones game -- free t-shirts, free jerseys, bobbleheads, fireworks, free food, and more!

Check out the entire promotional schedule and get your tickets now!

Written by Josh Mevorach