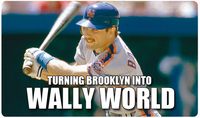 Former New York Mets star Wally Backman has been named the newest manager of the Brooklyn Cyclones, tabbed to lead the club in its tenth season of play.

Backman was a standout second baseman for the Mets in the 1980s – a gritty, hard-nosed table-setter at the top of the lineup for a team that won divisional titles in 1986 and 1988, and an iconic World Series championship in 1986. Backman played in the major leagues for 14 seasons, including nine with the Mets (1980-1988), and five with the Minnesota Twins (1989), Pittsburgh Pirates (1990), Philadelphia Phillies (1991, 1992), and Seattle Mariners (1993). He finished his career with a .980 fielding percentage, and is one of only 66 MLB players ever to notch six hits in a single game (4/27/90). Backman's 106 stolen bases with the Mets ranks eighth on the franchise's all-time list and his .283 career batting average for New York ranks ninth. Backman hit .333 in six games against the Boston Red Sox in the Mets' 1986 World Series win.

"I am thrilled and grateful to be coming back to the Mets' organization," said Backman. "The greatest days of my professional career were spent here in New York, and I have always felt a special connection to the city. I am especially excited to be joining the Cyclones. Brooklyn is a major minor-league team, and I know the borough's fans are – like me – intensely passionate about baseball and about winning."

Backman's appointment as the Cyclones' manager also marks a return to the New York-Penn League for the fifty-year-old Oregon native. Originally selected by the Mets in the first round (16th overall) of the 1977 draft out of Aloha High School (OR), an 18-year-old Backman made his professional debut with the then-affiliate Little Falls club in the NYPL, and hit .325 in 69 games.

"We couldn't be happier to welcome Wally to Brooklyn, "said Cyclones General Manager Steve Cohen. "He has always been a fan favorite in New York, symbolizing the blue-collar work ethic and unbridled dedication to winning that this city – and particularly this borough – values above all else in its sports stars. Brooklyn and Backman were made for each other."

After retiring as a player, Backman began a managerial career in 1997. In 2001, he was hired by the Chicago White Sox, and helmed their Winston-Salem (A) club. In 2002, he led the Birmingham Barons (AA) to a 79-61 record, and a Southern League title. In 2004, he was hired by the Arizona Diamondbacks, and led their Lancaster (A) club to an 86-54 record, earning him honors as the Sporting News "Minor League Manager of the Year." He was named the Diamondbacks' manager in November of that year, but was relieved of that position four days later. Backman returned to managing in 2007, guiding the independent South Georgia Peanuts to the South Coast League's inaugural title. In 2008, he managed the Northern League's Joliet Jackhammers.