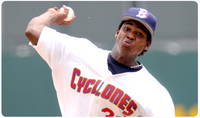 Former Cyclone Jenrry Mejia is one of the Mets' top prospects, and is currently playing in the Arizona Fall League.

The 20-year-old Mejia played for Brooklyn in 2008, going 3-2 with a 3.49 ERA in 11 starts. In 56.2 innings, he allowed 42 hits, 22 runs, all earned, and 23 walks, while striking out 52 batters. Apart from three game in which he struggled -- allowing 13 earned runs in 15 innings -- Mejia allowed just nine runs in his remaining 41.2 innings pitched, for a 1.94 ERA. He struck out a season-high nine batters in just five innings on 7/20/08, against the Yankees.

This season, Mejia combined to go 4-6 with a 3.14 ERA in 19 starts, splitting time between the Mets' St. Lucie (A) and Binghamton (AA) affiliates.

In the Arizona Fall League, Jenrry will be picthing for the Surprise Rafters, a team that consists of prospects from the Mets, Cardinals, Rangers, Royals, and yankees minor league systems. Mejia is joined on the rafters roster by fellow Cyclones alums IIke Davis, Lucas Duda, Reese Havens, and Eric Niesen.
Follow the former Cyclones on the Surprise Rafters

here

.