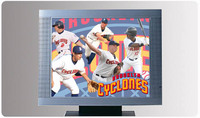 The Cyclones' official website has been redesigned, and the makeover not only gives brooklyncyclones.com a new look, but new features, as well.
The site is bigger, brighter, cleaner, and more functional, making the experience better for brooklyncyclones.com users. The new look features a bigger Top News section, highlighted additional headlines, the
Brooklyn Baseball Blog
, a My Cyclones Account tab for Season Ticket Holders, and much more.
The most popular buttons, like Tickets, Merchandise, and Multimedia are more easily found in the left-hand column, while the dropdowns in the top navigation still contain all the other pages (and a few new ones) that the most die-hard fans love to navigate.
The new site design makes brooklyncyclones.com high definition!
This means that the ideal way to view it is at a resolution of 1280 x 1024 pixels.
You can change the resolution of your screen by going to your control panel, clicking on "Display" and then clicking on the "Settings" tab.
In the days and weeks that follow the launch, we'll be combing the site to work out any kinks or bugs that are not working exactly as they should be. This is something you can help us with! If you click on something or see something that is not working correctly -- or if you just want to give us some feedback on the new design --
let us know
.
In the months leading up to the season, brooklyncyclones.com will be introducing more great new features, so stay tuned!