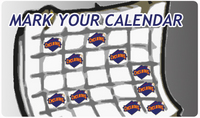 The Cyclones' 2008 game schedule features 38 thrilling home games, and excitement all summer long.
The '08 schedule kicks off with Opening day against the Staten Island Yankees on June 17th at KeySpan Park. The Cyclones and their cross-river rivals will play 14 times throughout the season, with seven games at each team's home ballpark.
The schedule features six Friday Night Fireworks games, eight Saturday games, and eight Sunday games, ensuring that weekends on Coney Island will be one of the hottest tickets in town.
Promotions, giveaways, and special appearances will be announced in the coming months.
Ticket Plans will be available soon, while individual game tickets will be on sale next spring.
See the entire 2008 schedule