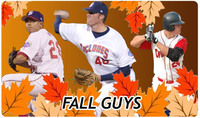 Five former Cyclones recently participated in the Arizona Fall League, the annual post-season league that showcases some of baseball's top prospects.
Eddie Camacho
,
Eddie Kunz
,
Carlos Muniz
, and
Caleb Stewart
were Mets entries in the AFL who played for the Scottsdale Scorpions, and
Drew Butera
, now a member of the Minnesota Twins organization, played for the Phoenix Desert Dogs
(pictured above, l-r: Muniz, Kunz, Stewart)
.
Camacho went 0-2 with a 2.31 ERA in 10 games, Kunz was 0-1 with a 10.13 ERA in nine games, Muniz was 0-1 with a 3.27 ERA in 8 games, Stewart batted .318 (14-for-44) in 12 games with six home runs and 11 RBI, and Butera hit .250 (8-for-32) in 12 games.
The roots of the Arizona Fall League go back several years, when the Major Leagues wanted to create an easily accessed offseason league. A concern was that some of the best ballplayers left to play winter ball out of the country, such as in the Caribbean and there was no way to monitor them.
If Major League Baseball created a league that it could govern and monitor, it would be better organized. If a player was injured, proper care and treatment would be on hand. With the Arizona Fall League, managers, coaches, scouts and league officials could participate.
"That was the beauty of this," says Steve Cobb, AFL executive vice president, "and that seemed to be one of the unifying factors for all the clubs. They created a Fall League where all of their personnel would be involved, with reduced travel and immediate accessibility on the part of scouting."
Each Major League Baseball team sends six top prospects to the Arizona Fall League, 180 players in all. The games are played in the Spring Training stadiums used by the Giants, Mariners, Padres, Cubs, A's, Royals and Rangers.
How good are the players in the Arizona Fall League? The 2006 All-Star Game in Pittsburgh featured 25 AFL alums, including first-time All-Stars David Wright, Chase Utley and Ryan Howard. The AFL Hall of Fame features notable names such as Mike Piazza, Derek Jeter, Albert Pujols, Torii Hunter, Todd Helton, and many others.

Learn more about the Arizona Fall League