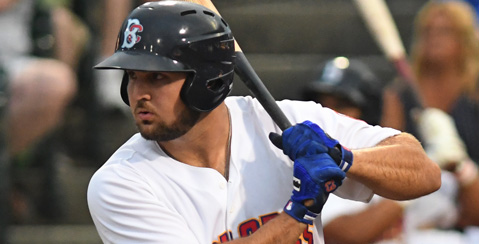 BROOKLYN, NY (August 25, 2018) – With a strong, balanced offensive attack, the Brooklyn Cyclones, the Short Season, Class A affiliate of the New York Mets, slammed the Connecticut Tigers 10-3 to win the rubber match of a three-game set Saturday night at MCU Park in front of a 7,719 sellout crowd.

For the full box score, click here.For the radio highlights, click here.

W: Wilson (4-3)
L: Vasquez (5-3)

BIG MOMENTS
Chase Chambers

and Anthony Dirocie each collected three hits in Saturday's finale. Chambers reach five times, scoring twice. Dirocie doubled and drove in a pair of runs.

Manny Rodriguez

went 2-5, including a two-RBI double capped a monster four-run third inning for Brooklyn, pushing the lead to 7-0.

Brooklyn scored three times in the first inning against Jose Vasquez, plating runs on a passed ball and RBI singles from Chase Chambers and Anthony Dirocie.
KEY CYCLONES CONTRIBUTORS
Chase Chambers:

3-3, BB, HBP, 2 RBI, 2 BB

Anthony Dirocie:

3-5, 2B, 2 RBI, R

Manny Rodriguez:

2-5, 2B, 2 RBI

Carlos Cortes:

2-4, BB, 2 R
NEWS & NOTES
With a win and a Staten Island loss Saturday night, the Cyclones own the top wild card spot by one game with nine to play.

The Cyclones finished the season series 8-1 against Connecticut, outscoring the Tigers 81-24.

Kyle Wilson

earned his fourth consecutive victory Saturday night.
WHAT'S NEXT
Brooklyn at Vermont – Sunday, 5:05 p.m.
Centennial Field – Burlington, VT
Probables: RHP Jaison Vilera (5-1, 1.59) vs. RHP Jose Mora (1-4, 3.38)
Audio: brooklyncyclones.com/listen