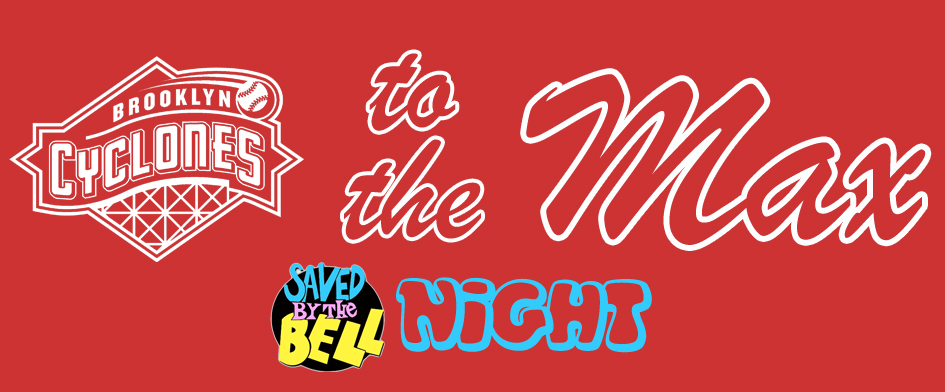 CYCLONES TO "THE MAX" PACKAGE ON SALE NOW
To Purchase "To the Max" Tickets -- CLICK HERE (SOLD OUT)

Last week the Cyclones announced that the first of their year-long Way Back Wednesdays would be a salute to "Saved by the Bell" on Wednesday, June 24th when Brooklyn takes on the appropriately named ValleyCats. The entire evening will focus on Bayside High's favorite Tigers: Zack, Kelly, Slater, Jessie, Screech and Lisa. The team also announced that they will be wearing special jerseys on-field during the game, which were met with delight by fans of SBTB and garnered national attention: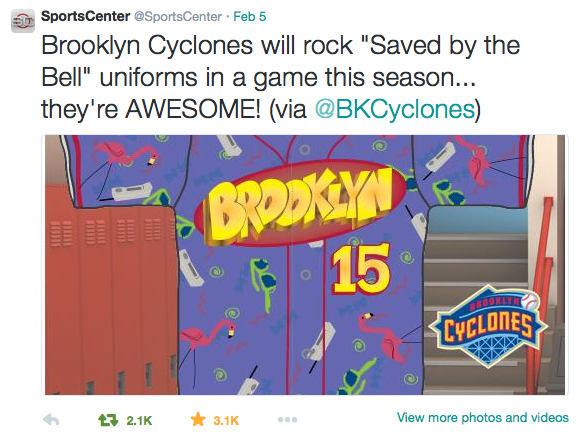 Here's a look at some of the other fun that's in store:
Pre-game "Sprain" Dancing Competition
A.C. Slater's Sitting Backwards Musical Chairs
I'm So Excited Fan Cam
Mr. Tuttle's Learner's Permit On-Field Obstacle Course
Screech Powers Chess Tournament on the Concourse Level
Kiss Cam complete with the usual "WOOOOOOOOOOOW" sounds since our game will also be taped in front of a live studio audience
Anyone named Johnny Dakota is banned from the ballpark because we "Say Nope to Dope"
Oldest Cell Phone in the Ballpark Competition
Friendship bracelet station on the concourse...singing "Friends Forever" will be optional.
Zack Morris TIMEOUT Race Around the Bases – kids will race around the bases, but most stop in their tracks every time they hear TIMEOUT.
After the game, fans with perms or wearing acid-washed jeans will be allowed to run the bases.
Single game tickets won't be on sale until early May, but you can make sure you are part of what is sure to be a night to remember, by taking advantage of our Cyclones "To the Max" ticket package that will go on sale Wednesday, February 11th at 10 AM. The package, which costs $40, includes a bleacher ticket (what's more High School than watching a game from the bleachers?), pre-game picnic (from 5:30-7:00 PM) and this commemorative "Brooklyn Goes Bayside" t-shirt. Tickets will ONLY BE AVAILABLE at BrooklynCyclones.com. T-Shirts will be printed in sizes S-XXL and available on a first-come, first-served basis. The picnic menu will feature popcorn, gourmet pasta salad, grilled Nathan's hot dogs, hamburgers and non-alcoholic beverages.