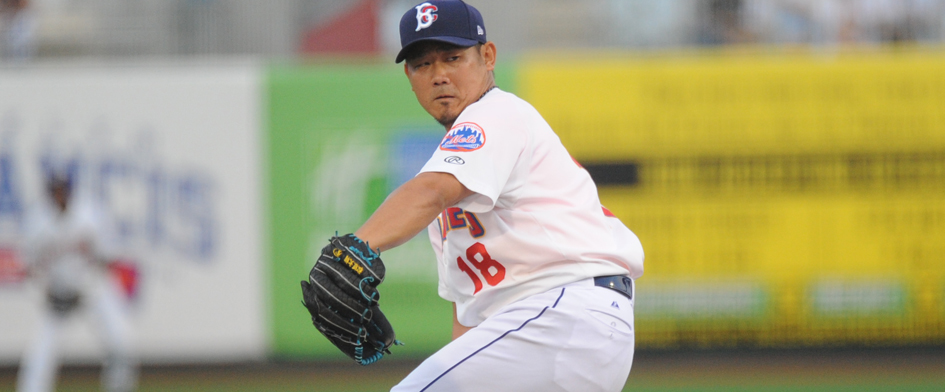 DAISUKE SHINES IN BK
The bridge rivalry continued between Staten Island and Brooklyn on Thursday night for game two of the series in front of a sellout crowd of 8,005 at MCU Park. With Mets RHP Daisuke Matsuzaka on the mound as a part of his rehabilitation, the Cyclones shutout the Yankees, 2-0.
Daisuke Matsuzaka threw five scoreless innings, only giving up two hits and striking out seven. The only trouble Matsuzaka ran into occurred in the top of the first inning. The starter gave up a double, a walk, and a single to load the bases for the Yankees, but retired the side with three strikeouts.
Matsuzaka went on to retire the next eight batters he faced, before walking Luis Torrens in the fourth. Austin Aune was the next batter, who flew out to John Mora in left-center. However, a collision in left-center field between John Mora and Michael Conforto on the hit from Aune resulted in Mora coming out of the game and Tucker Tharp replacing him in center.
The Cyclone made the first mark on the board in the bottom of the fifth. Pedro Perez doubled to right field and was able to move third on an error by Austin Aune. Michael Bernal followed with a double and drove in Perez to make it a 1-0 ballgame. The next batter, Alfredo Reyes singled. Bernal aggressively attempted to score from second, but was thrown out at the plate and the Cyclones ended the inning with just one run.
An inning later, Brooklyn added an insurance run to their lead. A walk and singles from Tomas Nido and Tyler Moore were enough to plate the Cyclones second run. With Thursday night's hit, Tomas Nido extended his current hit streak to ten games.
Brad Wieck and Kelley Secrest threw the next three innings for the Cyclones, only giving up a hit a piece, before handing the ball over to closer, Shane Bay. Bay retired the side and is now 14 for 14 in save opportunities so far this season.
The Cyclones will host the Tri-City ValleyCats for a three game weekend series that will begin Friday at 7PM. Friday is Military Appreciation Night and the first-ever Brooklyn Beach Party at MCU Park, which will include SI Swimsuit models as special guests. For tickets, you can call 718-507-TIXX, visit the MCU Park Box Office, or log onto BrookynCyclones.com.