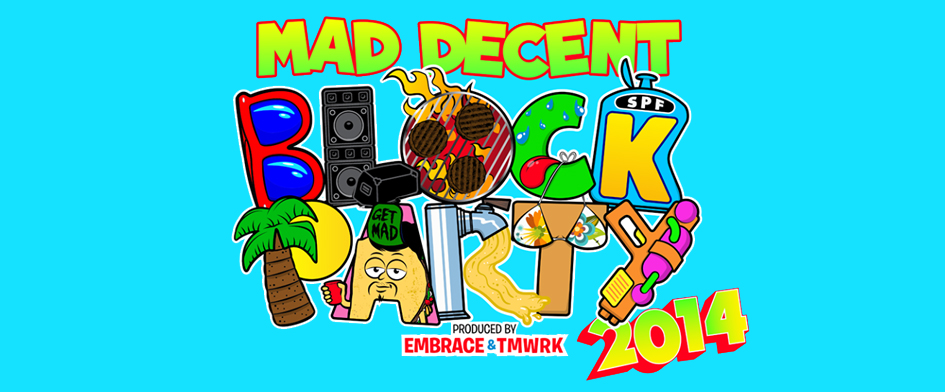 MAD DECENT BLOCK PARTY AT MCU PARK
If you are coming to the Mad Decent Block Party at MCU Park on Saturday, August 9th, here's a guide to everything you need to know about the rules and regulations for this event:
Mad Decent Block Party featuring Walshy Fire, Vic Mensa, Grandtheft, Flosstradamus, DJ Snake, Diplo, Dillon Francis and Big Gigantic.

August 9, 2014

MCU Park - 1904 Surf Avenue, Brooklyn, NY 11224

Gates- 2:00 PM

Show- 3:00 PM

The Show will conclude at 10:00 PM
The event is rain or shine.
There is no re-admission once inside the gates, and no smoking allowed on the grounds.
Out of concern for the safey of all of our attendees, MCU Park and New York Public Safety officials will implement significant measures to prevent threats to public health and safety.
We ask all attendees to bring anyone exhibiting signs of possible medical distress to the immediate attention of Event Staff and Public Safety officials so that Emergency Medical Services on site can assess them and provide necessary medical treatment as quickly as possible.
Please take careful note of the following information:
All attendeeds must be 16 years of age or older and will need to present valid ID.
There will be STRONG law enforcement presence, uniformed and undercover, both inside and outside the venue. Narcotics-sniffing dogs will be deployed as part of the pre-entry search process.
The pre-entry search process will be extremely thorough. Please arrive early (doors at 2 PM) and be prepared to wait in line for the search process to take place. Below is a list of items that are permitted and prohibited during the entry process.
There will be free water stations located on the GA Field level, and water fountains located on the concourse of the GA Bowl level.
PARKING: There will be a $25 charge for parking in the lot adjacent to MCU Park. Tailgating IS NOT allowed and cars are not allowed to be left overnight.
AGE RESTRICTION: You must be 16 years or older to gain entrance into the stadium. You may be asked to show identification. Those without proper ID may not get granted admission. All guests should plan to bring photo identification.
THE FOLLOWING IS ALLOWED:
Small Bags (the size of fanny packs and small clear bags) ALL ITEMS ARE SUBJECT TO SEARCH
Plastic Water Bottles up to 20 oz are allowed in, but they MUST BE EMPTY.
Empty Camel Backs.
Small Personal Cameras - No Professional Equipment.
Lighters.
Cell Phones.
Earplugs.
Sealed chapstick and lipgloss.
Sunglasses.
Hats.
THE FOLLOWING IS NOT ALLOWED:
No Masks
No Illegal Substances
No Drugs or Drug Paraphernalia
No Pets
No Massagers
No Laser Pointers
No LED Gloves or LED Michrolights used for Light shows.
No Pacifiers
No Eyedrops
No Glass, Cans, Cups or Coolers
No refillable water bladders.
No markers, pens or spray paint
No large chains or spiked jewlery
No Stickers or Fliers
No Balloons, Balls, Inflatable Balls or Frisbees.
No tents, large umbrellas, beach chairs, or blankets.
No large purses or bags (Anything over 10"x10")
No stuffed animals or dolls (including plush backpacks).
No Kandi Bracelets or Kandi Necklaces.
No candy including gum, lolly pops, sucking candy
No food or beverage of any kind.
No open packs of cigaraetters or unsealed tampons.
No lawn chairs of any type.
No weapons of any kind (including pocket knives, pepper spray, and fireworks, etc.)
No professional recording equipment
No Video Cameras or GoPros
No Toy weapons
*Weapones Prohibited: Guests, including law enforcement personnel not present in an official capacity, are prohibited from bringing weapons into the venue. MCU Park does not provide weapon lockers. Weapons may not be checked in at the Guest Services kiosk. Weapons include, but are not limited to, the following: firearms, explosives, stun guns, handcuffs, brass knuckles, sticks, clubs, batons, martial arts instruments, pepper spray, tear gas, and knives with blades over 2 inches in length. Guests found in possession of the above-mentioned items will be asked to remove the item from the venue or dispose of it. Guests who refuse to comply will be evicted from the venue.
MCU PARK IS A SMOKE FREE FACILITY, SO SMOKING IS NOT ALLOWED ANYWHERE IN THE BALLPARK. THIS INCLUDES ELECTRONIC / VAPOR CIGARET