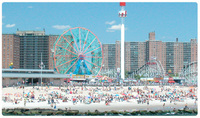 Coney Island, NY – The "Alliance for Coney Island" today launched ConeyRecovers.org, a multipronged relief and recovery effort to help Coney Island residents and businesses dealing with the devastating aftermath of Hurricane Sandy.

While much of Coney Island is still without power or heat, the "Alliance for Coney Island" has established ConeyRecovers.org and #ConeyRecovers, to focus and gather donations and volunteers to assist all neighborhood relief and recovery efforts. The website is a central information location for people who live in the area to learn about where they can get assistance.

"Repairing our community is our primary goal and with a long-term, concerted effort on the part of local leaders and the continued generosity of Coney Island fans around the world, we will continue the Coney Island renaissance" said Dennis Vourderis, Chairman of the "Alliance for Coney Island", and owner of Deno's Wonder Wheel Park. "To rebuild this unique neighborhood – where roller coasters coexist with residential developments, sea lions with merchants, tourists with locals – we all are pulling together. The fantastic rebirth of Coney Island will continue."

"Coney Island was hit particularly hard by Hurricane Sandy, but I have seen tremendous effort and heart in our community over the past week," said Councilman Domenic M. Recchia Jr. "I am confident that by working together, we are going to build back better and stronger than ever. #ConeyRecovers is a necessary step in what will be a long road to recovery and I am proud to join with the Coney Island Alliance on what is an historic partnership."

"This week across Brooklyn we've seen the true value of people power in times of need. Without electricity and basic resources, our waterfront communities have still managed to come together quickly and creatively to provide emergency response and organize local recovery efforts. In Coney Island—where the need is so great—we're inspired and grateful for the actions led by the Alliance for Coney Island and applaud their effort to build greater unity and strength through the Coney Island Recovery Fund," said Marilyn Gelber, Brooklyn Community Foundation President.

In addition, New York Mets pitcher Johan Santana will visit Coney Island on Tuesday, November 13th, to participate in ConeyRecovers.org efforts. From 12:00-12:45, the two-time Cy Young Award winner will be at Our Lady of Solace, and from 1:00-1:45, he will visit Coney Island Gospel Assembly on 28th and Neptune. Santana will be distributing lunches at both locations as he assists those affected by Hurricane Sandy in the same area where he pitched for the Brooklyn Cyclones, a member of the "Alliance for Coney Island", just last summer.

About Alliance for Coney Island

Alliance for Coney Island is a nonprofit organization dedicated to continuing the transformation of Coney Island into a year-round, world-class recreational oceanfront destination while improving the quality of life of the entire Coney Island community. The Alliance brings together Coney businesses, community organizations, and residents to work toward a better future for a neighborhood that is home to 50,000 residents and attracts millions of visitors each year. The Alliance is comprised of representatives of local businesses and nonprofits, along with representatives of Community Board 13, the local Council Member, and the Brooklyn Borough President.