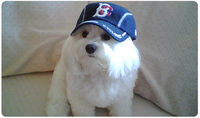 On Monday, August 22nd the Cyclones will host their annual Bark in the Park, where we invite our four legged friends to the ballpark to take in the action of a Cyclones baseball game. The evening is presented by the Mayor's Alliance for NYC's Animals.
The evening's festivities will include:
PUPPY PAPARAZZI: Post photos of your dog dressed up in Cyclones gear on our Facebook page and you and your dog will have a chance to throw out the ceremonial first pitch that night. We will also show the photos on the video board that evening.
DOGGIE BAGS: TD Bank will transform the "WOW Zone" into the "BOW-WOW Zone" and will be providing dog bandanas as well as bags filled with other goodies for our two legged, and four legged fans.
PET ADOPTIONS: Adoption vans will be on hand from 4:00pm - 8:00pm with cats and dogs that are available for adoption.
FIDO FASHIONISTA: Do you have the best dressed dog in Brooklyn? Or do you think that you and your dog look alike? Post your photos on Facebook and we will have a special runway show to see who's Brooklyn Fido Fashionista!
PUPPY SEE, PUPPY DO: Several dog owners will have the chance to come on to the field and participate in a special contest where the owners will be asked to play the roll of the dog. We will play fetch with our fans, maybe have them roll over. We all think it looks easy when a dog catches a frisbee in his or her mouth, now let's see if you can do it too.
CLICK HERE
and enter the promo code BBARKER in order to purchase tickets for our Bark in the Park event.