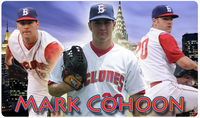 In 2010, Mark Cohoon showed the rest of the Mets organization what Cyclones fans already knew – he is one of the top pitching prospects in the Mets organization. The lefthander was named the Sterling Organizational Pitcher of the Year in 2010, after being the Sterling Award Winner for the Cyclones in 2009. This season Cohoon looks to start the season in Binghamton (AA) of the Eastern League, and who knows, maybe he will end the season at Citi Field in Queens. Recently Mark sat down with BrooklynCyclones.com to catch up.

Brooklyn Cyclones.com: When you were first drafted in 2008, you went 3-3 with a 4.55 ERA. Over the next two years, you went 21-7 with a 2.41 ERA and have won Sterling Awards in back-to-back years. What do you think has been the biggest change?
Mark Cohoon: When I was in college, I only threw 55.0 innings before I got drafted. My freshman year I didn't throw at all. So when I started playing professionally in 2008, my arm wasn't used to the grind as much and you lose a lot. It really wasn't until the extended spring training before I came to the Cyclones that I really started to feel comfortable on the mound again. But the biggest change for me has just been experience. Each time you go out on the mound, you learn something new and you can incorporate that in the next start. Plus I've had some amazing pitching coaches who have helped me out immensely.
BC.com: Since you left Brooklyn, what have you improved on? If a fan saw you in 2009 in Brooklyn, and then saw you this year, what would be the same and what would be different?
MC: One huge thing that has changed is my composure. I'm a lot more relaxed on the mound. Plus, my execution of pitches and of the game plan has all improved. But in terms of tangible things, my fastball command is much better. I can put the ball exactly where I want it. Some guys have the stuff to get away with mistakes, I don't throw hard enough to be able to do that. A guy I really look at, and want to emulate is Greg Maddux. He didn't have best stuff, but threw where he wanted and got guys out. I've learned a lot about how to pitch to hitters, and how to evaluate hitters individually.
BC.com: What do you remember most about your time in Brooklyn?
MC: Most of the things I remember are the times away from the field and the experience of living in New York City. I'm from Texas, and our life style and culture is quite a bit different. Experiencing the big city for the first time was a little overwhelming. But on the field, the thing I remember most is just being around fans who knew a lot more about baseball than just that they should root for the home team. The atmosphere was amazing. Oh and make sure you put that I remember the unicycle guy on top of the dugout. That was pretty awesome!
BC.com: Did you get to experience the city at all? Hit up some tourist spots? Or were you too busy during the season?
MC: We did get some down time to explore the city. It was a little crazy for me. I came into the city having a picture in my head of what it would be like, and then experiencing it and seeing how great it was to live there. I wouldn't take it back for anything. Some of the guys would pick random days to wake up and just ride the subway to Manhattan and walk around.
BC.com: How did you spend your off season?
MC: I amped up my workout schedule pretty early. I wanted to build off of last season and keep that success going. I had a personal trainer, Ryan, and we worked a lot on core strength and hip explosion. We did a lot of work on my mid section and that made my arm feel a lot better. I've only been in Florida for a couple of days and I already feel like I am in mid season shape.
BC.com: Do you have any personal goals for your season?
MC: I want to keep increasing my innings every year. Hopefully about 180.0 would be my goal. I want to gain more control of pitches. Continue to learn to evaluate hitters. Another big thing is me learning a fourth pitch so I can keep that in my back pocket for when I need it. I also want to attack lefthanded hitters. When I was in Savannah, teams would rarely bat lefties against me. When I got promoted to Binghamton, they would throw about four or five lefties against me every game. It was very tough, but it's something I really want to work on.
BC.com: What have you found to be the biggest difference in pitching at each level? From when you started pitching in Kingsport to last season when you made it as far as Binghamton, what have you noticed in the difference in how hitters attack you.
MC: The biggest difference isn't talent. Most guys hit the ball about the same distance and you wouldn't be a professional baseball player if you couldn't hit for average. But the biggest difference is that the hitters are a lot smarter as you move up the levels. They know your tendencies, and they try to exploit them. They make educated guesses. Basically in the lower levels, guys are surprised when you throw a fastball on a count where they would expect something off speed. As you move up the levels, they expect it.
BC.com: What is your typical routine on a game day? What do you do to get yourself ready to make a start?
MC: On a game day, I'll wake up and eat breakfast. Some guys don't do that because they don't want to feel full. I don't worry about that. Then, I'll spend my afternoon doing as little as possible. I want to conserve my energy. I don't get to the field too early. All the waiting around causes anticipation and then my performance suffers. I do anything to keep my mind off baseball. Once I'm there, I start my warmup an hour before the game. Do some work on my footwork to keep my agile, and then some stretching to keep me limber. Then with about 30 minutes before the game, I get dressed and head out to the bullpen.
BC.com: You're currently down at the Top Prospects Camp in Port St. Lucie, FL. What do you see as being the advantage to you being down there.
MC: The biggest thing is just getting a head start. I am down here a couple of days before the rest of the guys have to report, so it gives me the chance to get ready for the season sooner. Plus there are so many guys down here that I can learn from – Ricky Bones, Phil Regan, Rick Tomlin, Fran Fultz – those guys combined have like 100 years of baseball experience between them. So there is a lot they can teach me.