Front Office
NICOLE LaMONICA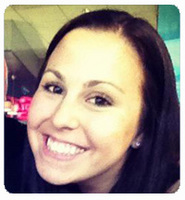 Premium Sales Manager & Group Specialist
NKneessy@BrooklynCyclones.com
PH: 718-382-2604
Nicole worked as a media relations intern for the New York Mets during the summer of 2010. She graduated from the University of Massachusetts Amherst in 2011 with a Bachelor's degree in Sport Management. After graduation she lived in Boston and worked as an outbound ticket sales intern with Boston College Athletics then began working with the Cyclones at the start of 2012.
Nicole was born and raised in Bayport, Long Island, but now lives in Manhattan.
Were you named after anyone?
Nope, I am the original Nicole Ashley Kneessy.


Do you like your handwriting?
Sometimes, but not when I write like a bubbly girl.


Would you ever bungee jump?
Bungee jump? no. Sky dive? Absolutely!


What is your favorite cereal?
Lucky Charms! (My dad got me hooked).


Do you untie your shoes before you take them off?
I don't know that I have ever untied my shoes at any point in my life actually.


If Hollywood decided to make a movie about your life, what would the title be?
Literally Nuts.


In this movie what actor/actress would play the role of you?
Snooki. I'm a meatball at heart.


What is your favorite smell?
Apple Cinnamon anything and fresh laundry.


Name a place you would like to visit and why?
Italy to see where my family came from.


Other than MCU Park, what is your favorite baseball stadium?
Fenway Park.


If you won the lottery, what is the first thing you would buy?
An apartment right next door to Rob Gronkowski (editor's note: I find it odd that Nicole knows that he lives in an apartment. Stalk much?)


If you were a baseball player, what would you want your walkup song to be?
Crazy Train by Ozzie


What is the best concert that you have ever been to?
Jay-Z at the Barclay's Center.


What is your favorite restaurant?
Cavanaughs in Blue Point.


If you wrote an autobiography about your life, what would the title be?
Selfie. I take more self portraits for Instagram and Facebook than anyone on the planet.