Front Office
JOE FERRUCCI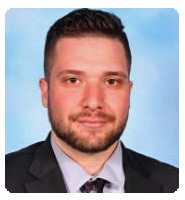 Account Executive
jferrucci@brooklyncyclones.com
PH: 718-382-2674
Joe graduated from Farmingdale State College in 2015 with a bachelors in Sport Management. Originally from Smithtown, NY, he interned with the Long Island Ducks in 2015 before spending time with the Long Island Lizards and New York Red Bull, where he most recently worked in event marketing.
Favorite Sports Teams:
New York Mets, New York Jets, New York Rangers, New York Knicks, New York Red Bull, Manchester United FC
Favorite Baseball Player:
Mike Piazza
Favorite Food:
Chicken Parmigiana
Favorite Type of Candy:
Snickers and Reese's Peanut Butter Cups
Favorite Restaurant:
Carmine's NYC
What sporting event do you wish you could have witnessed first hand?:
Super Bowl III to see the New York Jets win something for a change.
If you were a baseball player what would your walk-up song be?:
Amazing by Kanye West
Favorite Movies:
Step Brothers, Scarface, Star Wars (Entire Saga), Goodfellas, Rush Hour